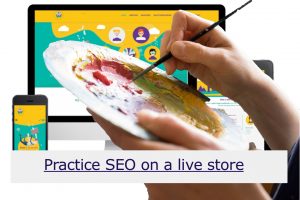 Learn how to use the Content Management System
Your webshop is a full function webshop.
Depending on your creativity and skills you can increase the number of orders.
How to increase the number of orders in your store??
what is your target group?
what kind of product information (description) solves their needs?
what kind of design is appealing for your target audience
what kind of navigation is appreciated by your target group?
what kind of landingpages increases the number of sales?
what kind of call to action increases the number of sales?
and more….
Your website has solutions and capabilities to test your ideas.
____________________________________
Design
Powerful Admin Panel
Every CS-Cart store comes with a powerful admin panel. It's crammed with dozens of features to help you get the full control over your store.
All the necessary tools for a worry-free are just at the tip of your fingers, intuitively arranged and served under a clean design.
Admin Mobile App
With Admin mobile app, you can manage your online store from your mobile device on the go. All you need is to install our mobile app to your iOS or Android device and start operating your admin panel from your smartphone. Using the admin panel through the app is a lot more convenient than through a mobile web browser. Admin mobile app is only available with CS-Cart Ultimate.
Built-in Content Management
The CS-Cart admin panel includes a full-fledged content management system.
The built-in CMS offers an easy way to create rich and SEO-friendly content pages for your site. You have full control over your page navigation and hierarchy. A modern web-based WYSIWYG editor will help you create beautiful pages in no time.
Product Filters
Product filters provide a convenient way to search through store catalog. With CS-Cart, you can easily create custom product filters based on any product feature.
Return Management
With the built-in RMA add-on, a customer can quickly create a return request and track it on their profile page. All requests can be easily managed via the admin panel.
Multi-Language & Currency
CS-Cart is localized into 10+ languages. Customers can easily switch languages and currencies right in the storefront; the prices are converted on the fly.
Powerful Product Option
CS-Cart gives you powerful capabilities to contol product options: create option combinations, add images for each option variant and combination, apply weight and price modifiers.
When creating an option, you can select its type. Besides the common option types—Select box, Radio group, and Checkbox—you can choose the Text, Text area, and File. The File type is useful for customizable products, where customers use their own graphic images.
Option Combinations
Combine option variants to create an option combination. Then add an image for each combination: when a customer chooses option variants on the product details page, the product image changes according to selected option variants.
You can also add forbidden combinations. Customers cannot select option variants of the product, if these variants make a forbidden combination.
Price and Weight Modifiers for Each Option Variant
Price modifiers reduce or increase the original price of the product, if a customer selects a particular option variant.
Weight modifiers change product's weight depending on the selected option variant. This feature is useful for delivery cost calculation.
Sequential Options
By using sequential options you let your customers choose options successively, one after another. For example, if a product has two options, the second option is locked until a customer chooses the first one.
Thanks to this feature, your customers choose only allowed option combinations.
Absolute Control over Your Catalog Inventory
Track with options
Tracking product inventory with options allows you to know the exact number of in-stock items with particular option combinations.
This features is useful for tracking the in-stock quantity of apparel, since apparel can be of different sizes and colors.
Track without options
If you track a product inventory without options, you will see the common number of in-stock items of the current product.
Do not track
Do not track the inventory, if the product cannot be out of stock: downloadable software, e-books, entrance fees, etc.
Downloadable Products Ready
With this feature you can sell electronically distributed products in your online store. Enable this function in Settings / General / Catalog and you're good to go!
Search Engine Optimization
CS-Cart helps you reach potential customers through popular search engines by providing an easy way to edit page meta information in the built-in CMS.
Also, With SEO-friendly URLs and powered by a built-in sitemap generation tool, your store will take top ranks in online search results!
Sell on Facebook, Ebay, Google Shopping
CS-Cart allows you to export your products to Ebay, Google Shopping, and even to Facebook!
The Google export add-on comes with CS-Cart by default. The Facebook Store and Ebay synchronization add-ons can be purchased separately.
Multi-Channel Commerce—Widget Mode
Embed your store into any web page by inserting the widget code into the page.
In fact, by using the widget code, you create a widget of your standalone store on WordPress, Facebook, and other websites.
View video
Completely Social
Thanks to the Social login add-on your customers log in to your store using their social network accounts: Google, Facebook, Twitter, Foursquare, etc.
Conversion tools
Testimonials & Product Reviews
With the Comments and reviews add-on enabled your customers post product reviews, testimonials, and comments in your store.
Testimonials and reviews from real customers make the store look reliable and help attract new customers and increase sales.
Bestsellers & On-Sale Products
This cross-selling tool allows you to show bestsellers, on-sale, similar, newest products, and more on the storefront.
Use the Bestsellers & On-Sale Products add-on to offer more products and worthy deals to your customers.
Customers Also Bought
The "Customers also bought" list is a must-have cross-selling tool for a proper online store.
It shows what products customers usually buy with a particular item. The Customers also bought add-on allows you to offer additional useful products to your customers.
Buy Together
Use the Buy together cross-selling tool to group related products into a bundle and offer a discount for the bundle.
This tool helps you boost your sales by selling more useful products to your customers.
Customer Cart Tracking
This cross-selling tool allows you to show bestsellers, on-sale, similar, newest products, and more on the storefront.
Use the Bestsellers & On-Sale Products add-on to offer more products and worthy deals to your customers.
Abandoned Carts
Knowing when your customers abandon their carts can help you detect and eliminate bottlenecks on their way to checkout, improving their shopping experience and your profits.
Live Carts
You can view any in-progress shopping session from the storefront in detail right in your CS-Cart admin panel. Get a sneak peek into your customer shopping bag!
Promotions & Discounts
CS-Cart offers a variety of promotion options to attract customers to your store: catalog or cart-based, discounted flat or per cent, and more.
Setting a particular product discount is super easy: just set the list price lower than the actual price, and the discount will be calculated on the fly.
Seamless Integration with Mad Mimi and MailChimp
Synchronize your subscriber lists with Mad Mimi and MailChimp e-mail marketing services using the E-mail marketing add-on.
Rocket-Fast
We understand how crucial speed is for an online store. This is why we put much effort into making CS-Cart faster with every new version. Backed by advanced web technologies, CS-Cart scores 95 points out of 100 in the Google Page Speed test out of the box. This is the highest score among other top e-commerce platforms.
With CS-Cart, you don't have to worry that your customers will wait for a page to load. CS-Cart is designed to deliver smooth and seamless shopping to every customer.
Client-Side Optimization
Lazy Image Loading
With lazy image loading the images on your storefront are loaded only when a customer scrolls to them.
Lazy image loading reduces server load and makes a web page load faster.
Deferred Script Loading
Customers cannot see the scripts because the scripts are a part of an HTML page and stand for animations and interactive content. It's important to show what a customer can actually see on the web page first.
Scripts are loaded last and don't block loading of the images and other visual content.
Gzip for HTML, CSS, JS
When a customer opens the webpage, the server starts sending web page files (HTML, CSS, JavaScript) to the customer's browser.
Gzip reduces the size of these files. The smaller the page files, the faster they are delivered to a customer's browser.
CDN Support Out of the Box
CS-Cart ships with the Amazon CloudFront CDN support. All the benefits of a Content-Delivery Network are at your service, in just a few clicks.
CDN is a system of worldwide-distributed servers that store your static data (images, CSS, and JavaScript files). For customers, this means better response time when they access your site, because the content takes a shorter path to their browsers.
Server-Side Optimization
Built-In Cache
The built-in caching engine caches template data and MySQL data into the memory. When CS-Cart needs that data again, the cached template data and MySQL query results are quickly retrieved from the memory.
xCache, Redis, APCu
CS-Cart supports xCache, Redis, and APCu caching technologies.
These accelerators cache CS-Cart data into the memory. Getting the data from the memory is always faster than generating it from scratch.
OpCache
OpCache accelerates PHP scripts by saving byte codes into the memory. When CS-Cart calls the same PHP script, the pre-cooked byte code is retrieved from the memory.
Retrieving the byte code from the memory is faster than compiling the PHP script again.
HHVM-Optimized
HHVM (HipHop Virtual Machine) is a technology developed by Facebook to provide an alternative, faster way to execute PHP scripts.
For now, HHVM is considered the fastest engine for executing PHP scripts. And when PHP is fast, CS-Cart accelerates too.